Marvin Integrity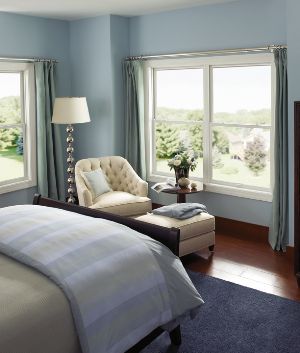 The exterior of Integrity products are made with Ultrex®, a pultruded fiberglass material with a patented coating process which is weather-resistant, strong, stable, and long lasting. The same amazing strength-to-weight ratio and tensile strength that make pultruded fiberglass perfect for use in ladders, bridge construction, and guardrails, make it perfect for durable, low-maintenance windows and doors.
Ultrex is superior to vinyl, vinyl-clad, and roll-form aluminum clad windows in virtually every category.
It's eight times stronger than vinyl and almost twice as strong as well. It resists pinholes, striations, chalking, fading, scratching, UV degradation (to reduce fading and damage to upholstery and carpets), and can be painted dark colors, even black, without compromising its structural integrity.
Expanding at virtually the same rate as glass, the entire Ultrex window stays tightly sealed; no leaks, seal failures, or stress cracks.
Ultrex windows qualifies and exceeds the ENERGY STAR® performance requirements.
Our double-pane windows and Low-E coatings can reduce window heat loss and cut costs by 34% in cold climates, and cut cooling costs by 38% in warm climates. And Integrity from Marvin has over a decade of field installations to prove it.
We are constantly adding new specials to our site. Be sure to check back often!
Sign up for our Email List
Stay updated with all our latest posts, products and offers! Just enter your information below.